Who knew death could be so elegantly ornate?
I saw these photos several years ago and recently ran across them again. Seeing them the second time leaves me just as bewildered and bling-struck as the first time I saw them. For me, I am astonished by the beauty but I am more confounded at how people of that time could be so utterly poverty stricken while the church was bedazzling corpses with fortunes in jewels. It is macabre on so many levels. According to the very fine website, Atlas Obscura, these jeweled skeletons were found in catacombs beneath Rome in 1578, and were believed to be Christian martyrs. Its not clear that they were. But churches had lost their saint relics in the Reformation and these served as an advantageous replacement. The  identities of most the skeletons were unknown.  Churches that received skeletons then spent years covering their bony strangers with jewels, golden clothing, and other finery.  When the Enlightenment came around the church felt bad about the fortunes that had been directed to ornamenting the deceased and so these skeletons were hidden away or disappeared completely.
If you interested in a coffee table version of these amazing, bejeweled human scaffolds, look for  Heavenly Bodies: Cult Treasures & Spectacular Saints from the Catacombs, by Paul Koudounaris.
All quotes found below photos are from his book. Also, check out atlasobscura.com
                                        St. Valerius in Weyarn (copyright Paul Koudounaris)  
                                   Detail of the hand of St. Valentin in Bad Schussenreid, Germany, one of a number of Katakombenheiligen (Roman catacombs saints) named for the popular Italian saint. (copyright Paul Koudounaris)
                          Decorated by the skilled lay brother Adalbart Eder, St. Valentinus in Waldsassen wears a biretta and an elaborate, elegantly jeweled version of a deacon's cassock to emphasize his ecclesiastical status. (copyright Paul Koudounaris)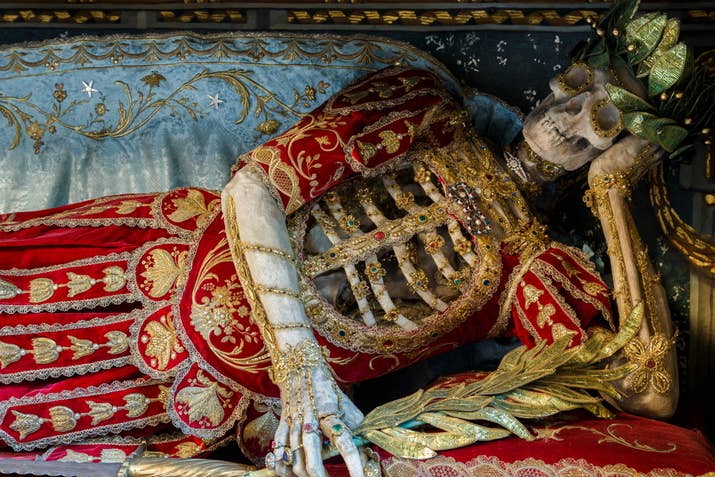 "One of the finest decorated skeletons in Switzerland, he has been present in the church since the 17th century, but is now hidden behind a painted cover." (copyright Paul Koudounaris)
                                        In addition to its four complete skeletons, the church in Roggenburg, Germany, owns a pair of skull relics. This one was given the generic name of Deodatus as its identity was unknown. (copyright Paul Koudounaris)
                                     The arrival of St. Albertus' remains from the Roman Catacombs in 1723 was a source of great excitement for the parishioners of the church of St. George in Burgrain, Germany, offering both a tangible connection to the early Christian martyrs and a glimpse of the heavenly treasures that awaited the faithful. (copyright Paul Koudounaris)
                                       St. Munditia, in the church of St. Peter in Munich, grasps a flask supposedly containing dehydrated blood as evidence of her martyrdom. When faith in the catacomb saints waned, Munditia was boarded up and spent several decades hidden from view (copyright Paul Koudounaris)
                                     The relic of St. Deodatus in Rheinau, Switzerland, is an example of an unusual reconstruction technique in which a wax face was moulded over the upper half of the skull and a fabric wrap used to create a mouth. (copyright Paul Koudounaris)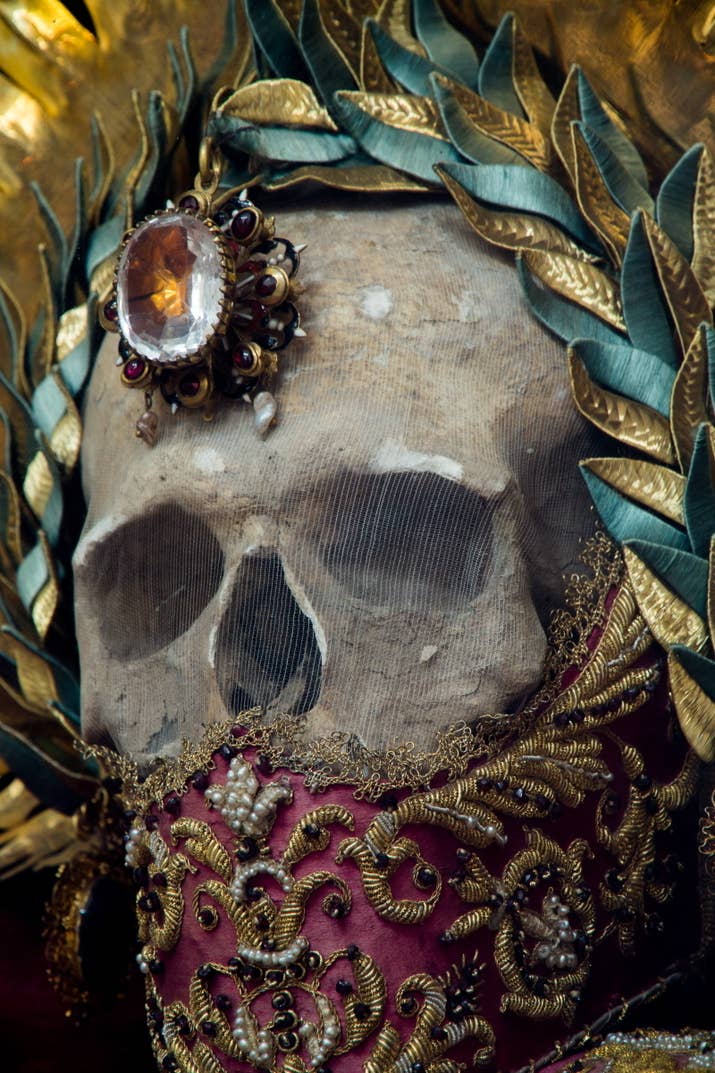 "One of the most famous of the jeweled skeletons, he was a popular healing saint, and his relic was said to even have the power to raise dead children." St. Leontius Muri, Switzerland.  (copyright Paul Koudounaris)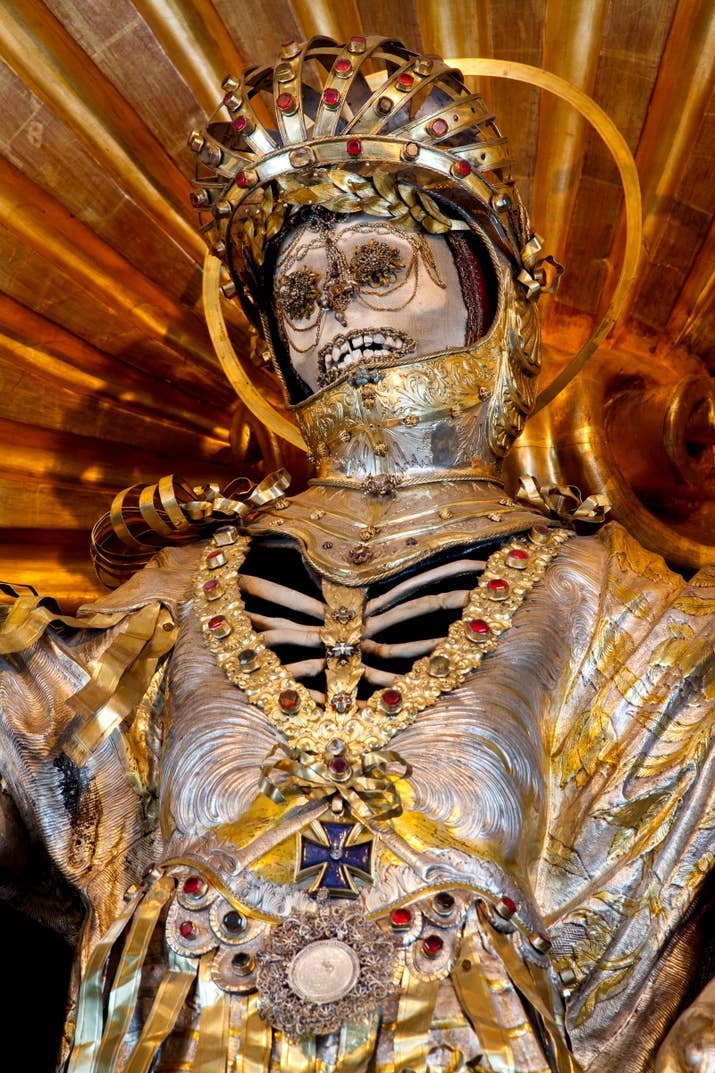 "He was believed to have been an Early Christian soldier who was martyred (hence the armor). He was decorated in the late 17th century and became associated with the legend of a feral white cat, which some believed was his ghost that prowled the village to check on its residents."  (copyright Paul Koudounaris)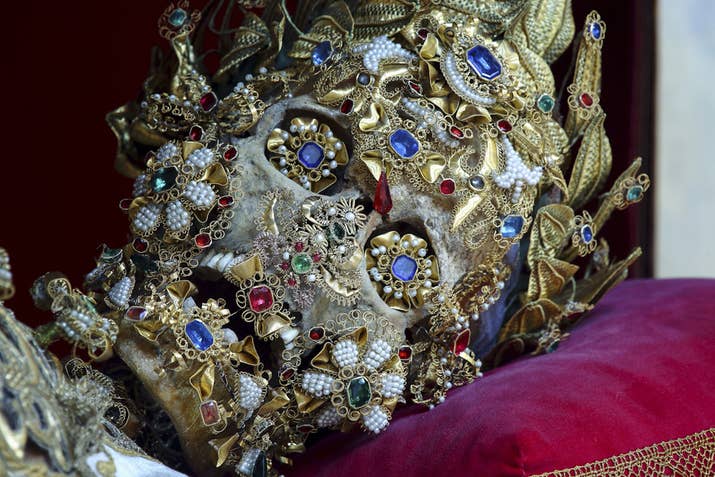 "One of two exquisitely decorated skeletons sent to a former aristocratic church dedicated to St. Michael."    St. Benedictus (Berg am Laim, Munich, Germany)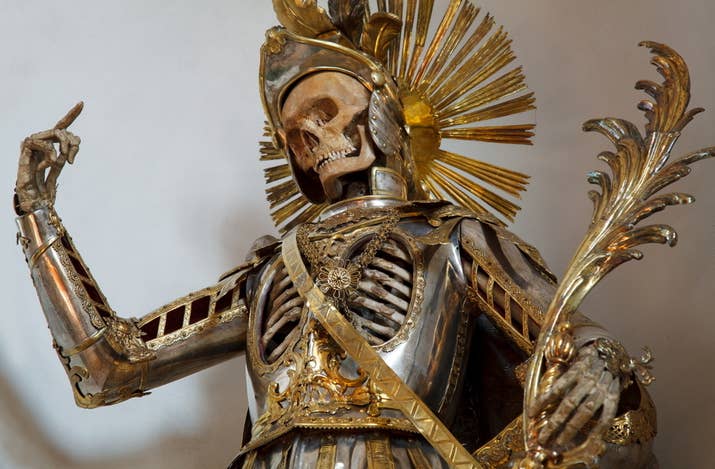 "He wears armor because he was believed to have been an Early Christian soldier who was martyred. The current suit of armor was made by a silversmith in Augsburg, Germany, in the 18th century. The skeleton was vandalized in the 20th century — its skull was stolen, but later returned and placed back in its helmet."  St.Pancratius, Wil Switzerland. (copyright Paul Koudounaris)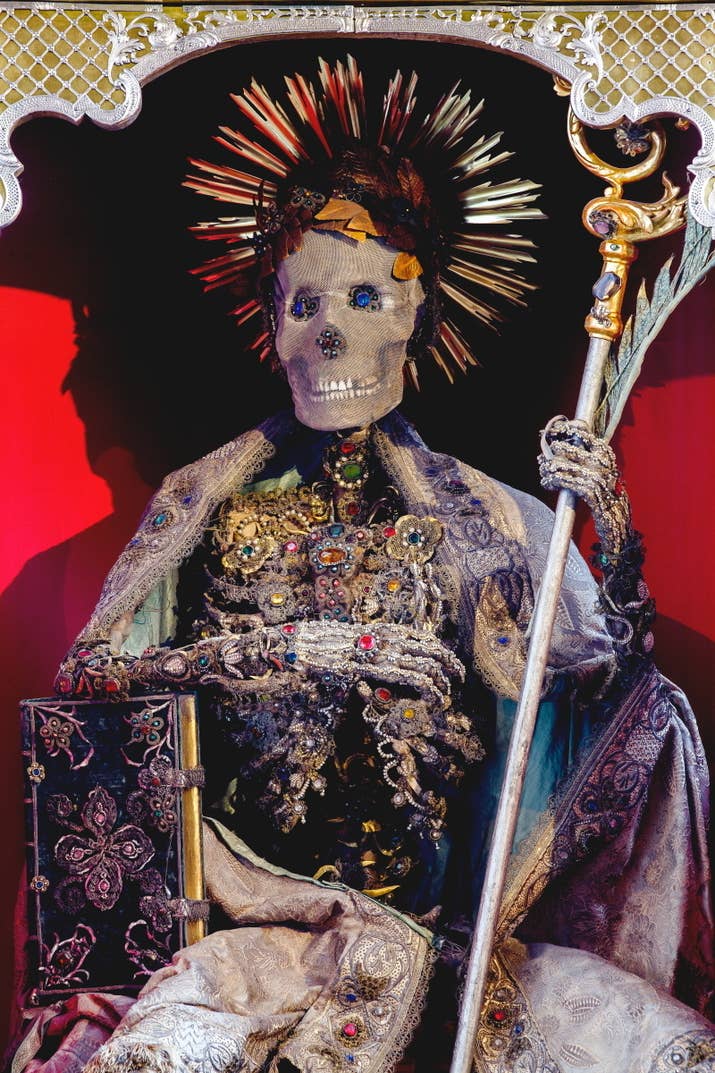 "He is the only one in this group that was not believed to be an Early Christian martyr. A medieval abbot of the town's monastery, he was so famed that when the fad for decorating skeletons became popularized, his bones were exhumed and decorated in the same style in order to give him prominence." (copyright Paul Koudounaris)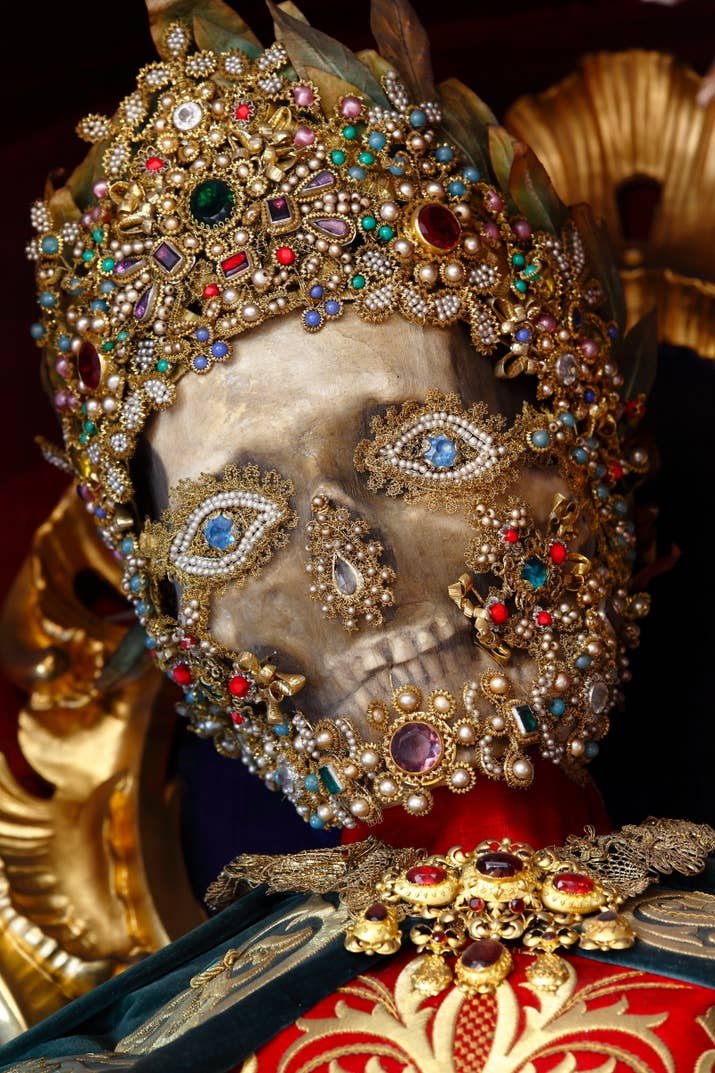 "He arrived at the town's monastery church in the 17th century and was credited with an important miracle — it was believed that he saved the town's market from being destroyed in a fire. Because of this, a pilgrimage in his honor became popular." St. Felix, Gax am Inn, Germany. (copyright Paul Koudounaris)